The Nutrition Research Institute is home to accomplished research scientists with expertise in a range of fields, including nutrition, genetics, biochemistry, neuroscience, epidemiology, toxicology, psychology, and medicine. Separately and together they are breaking ground in the field of precision nutrition. Our scientists also serve as mentors to students and postdoctoral researchers. One of the most rewarding aspects of mentorship is watching students and postdocs thrive as they grow their careers – especially when they can continue their growth at the NRI.
We are excited to announce that two of our postdoctoral researchers have been promoted to the position of Assistant Professor. Congratulations to Yuan Li, PhD, and Blake Rushing, PhD. Both Dr. Li and Dr. Rushing will continue their work in the Sumner Lab.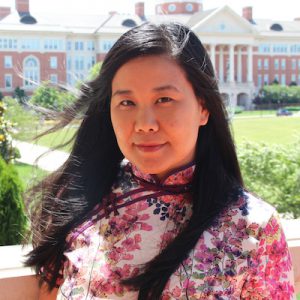 Dr. Yuan Li's research interests focus on using nutritional approaches to prevent and manage metabolic syndromes, including obesity, diabetes, and their complications. She employs cutting-edge "omics" methodologies to reveal perturbations in biochemical profiles that are related to disease and treatment efficacy and uses that knowledge to inform intervention strategies. Before moving to the US,Dr. Li received comprehensive training in Traditional Chinese Herbal Medicine (TCM) and conducted research at the Hong Kong Department of Health to establish quality standards to ensure safety and efficacy of TCM herbs.
After moving to UNC Chapel Hill, Dr. Li served as the manager of the Metabolomics and Exposome Laboratory in the Sumner Lab at the Nutrition Research Institute (NRI). She oversaw the development of the untargeted metabolomics workflow for the NIEHS-funded Children's Health Exposure Analysis Resource (CHEAR) program, and led diabetes and metabolic syndromes investigations for the Eastern Regional Comprehensive Metabolomics Resource Core (ERCMRC). She is currently a co-investigator in the NIEHS-funded Human Health Exposure Analysis Resource (HHEAR) program.
Dr. Li earned a BS degree from Chengdu University of Traditional Chinese Medicine, China, and a PhD in biochemistry from City University of Hong Kong.
Dr. Rushing's research currently uses -omics techniques to study how nutrients and other compounds from the diet can be used to enhance the efficacy of drugs or mitigate their adverse effects, with a focus on anticancer therapeutics.
Dr. Rushing is trained in pharmacology and toxicology, and has experience using liquid chromatography-mass spectrometry, nuclear magnetic resonance, in vitro model systems, and various biochemical assays to study the interactions between small molecule toxins/drugs with macromolecular targets such as proteins and DNA. He is well versed in using analytical instrumentation to study metabolic products of exogenous small molecule agents and their biological effects.
Dr. Rushing earned a BS in Chemistry from Catawba College, and a PhD in Pharmacology and Toxicology in 2018 from East Carolina University.