Virtual Internship Program
Applications for VIP 2023 are closed.
All applicants will be notified of their acceptance status April 3, 2023.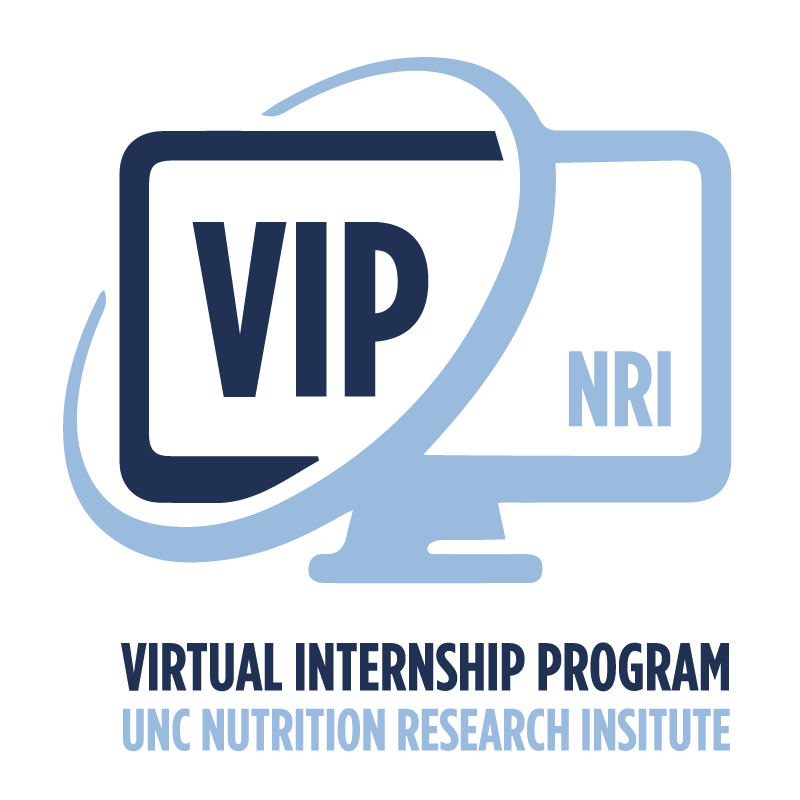 VIP Dates 2023
Tuesdays and Thursdays, June 20 – July 20
*break June 30 – July 10
All sessions except the final presentation session start at 1 PM (eastern).
The NRI is excited to offer its Virtual Internship Program (VIP) for high school students for 2023! This 4-week, online-only program will allow students the opportunity to learn from NRI principal investigators and other research staff, participate in group mentoring sessions, and complete an independent nutrition research project and presentation.
All sessions will be via Zoom on Tuesdays and Thursdays. Most sessions are one hour long; the introductory and concluding sessions are longer. See schedule, below.
Application Requirements: Applicants must be current high school students (rising freshman who will be entering high school in the fall of 2023 are eligible to participate) or recent high school graduates who will begin their freshman year of college in the fall of 2023. Applicants under the age of 18 must have permission from their parents to participate.
Applications are closed.
Application Process: No applications will be accepted after the deadline.
Your application must include:

Statement of interest to participate in the program (200 word maximum)
Statement of future career interest (50 word maximum)
List other summer activity commitments during the date range of the NRI VIP (June 20 – July 20, 2023)

Applications will be reviewed and scored based on these three criteria. The 20 students receiving the highest scores will be accepted into the 2023 program and notified by email on or before April 3.
Program Requirements: To successfully complete the VIP program and receive the certificate of completion, students must attend all weekly sessions, be actively engaged, and complete their program project on time (a 3-5-page paper on a nutrient of their choice). Students must also prepare and give a 5-minute presentation summarizing their project.
All applicants will be notified of their acceptance status April 3, 2023.
VIP Schedule 2023
Week One

Tuesday, June 20
1 PM - 2:30 PM
Welcome and Orientation
Nutrition 101
Stephen Hursting, PhD, MPH
Institute Director, Professor of Nutrition

Jenna Baker
VIP Coordinator

Delisha Stewart, PhD
Assistant Professor of Nutrition

Thursday, June 22
1 PM - 2 PM
Research Methods
Madison Schroder
Research Technician, Sumner Lab

Week Two

Tuesday, June 27
1 PM - 2 PM
Why Nutrition is important to health and wellness across the lifespan
Carol Cheatham, PhD
Associate Professor of Psychology & Neuroscience
Thursday, June 29
1 PM - 2 PM
Mentoring fundamentals and personal experiences
Angela Clontz,
Graduate Student, Voruganti/Hursting Labs

Week Three

Tuesday, July 11
1 PM - 2 PM
Healthy Hydration: Promote Health and Prevent Chronic Disease
Saroja Voruganti, PhD
Associate Professor of Nutrition

Baba Mass
Research Associate, Voruganti Lab
Thursday, July 13
1 PM - 2 PM
The Importance of Folate in Promoting Health and Preventing Disease
Natalia Krupenko, PhD
Associate Professor of Nutrition

Week Four

Tuesday, July 18
1 PM - 2 PM
Career Paths in Nutrition
Hursting Lab
Ximena Bustamante-Marin, Assistant Professor
Melissa VerHague, Lab Manager
Ariana Reid, Research Technician
Walter Friday, Research Specialist
Thursday, July 20
TBD
Student Presentations
Students