Virtual Internship Program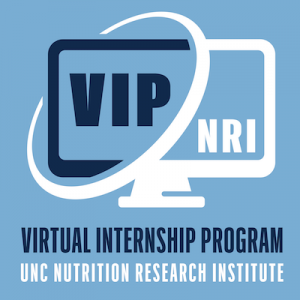 The NRI is excited to offer a virtual internship program for high school students! This 4-week, online-only program will allow students the opportunity to learn from NRI Principal Investigators, participate in group mentoring sessions, and complete an independent nutrition research project and presentation. All sessions will be via Zoom.
Program Requirements: To successfully complete the internship program, students must attend all seminars and workshops and complete their program project (a 3-5-page paper on the nutrient of their choice). Students must also prepare and give a 5-minute presentation related to their program project.
Application Requirements: All applicants must be either a current high school student (rising freshman who will be entering high school in the fall of 2022 are eligible to participate) or a recent high school graduate who will begin their freshman year of college in the fall of 2022. All applicants under the age of 18 must have permission from their parents to participate.  
VIP Schedule 2022
Week One

Tuesday, June 14
1 PM
Welcome
Stephen Hursting, PhD, MPH
Institute Director, Professor of Nutrition
Thursday, June 16
1 PM
Research Methods
TBD

Week Two

Tuesday, June 21
1 PM
Human Subjects Research Lecture
Rachel Goode, PhD, MPH, LCSW
Assistant Professor of Social Work and Psychiatry
Tuesday, June 23
1 PM
Mentor Session
Walter Friday
Research Technician

Week Three

Tuesday, June 28
1 PM
Laboratory Science Research Lecture
Evan Paules, PhD
Postdoctoral Research Associate
Tuesday, June 30
1 PM
Mentor Session
Julie Hasken, PhD
Postdoctoral Research Associate, Project Manager

Week Four

Thursday, July 7
11:30 AM - 2:30 PM
Presentations
Students
To apply, click the button at the top left of the page.