Fitting the Fall Season into Your Rainbow Diet
September 2023 • Cooking Demo + Nutrition Talk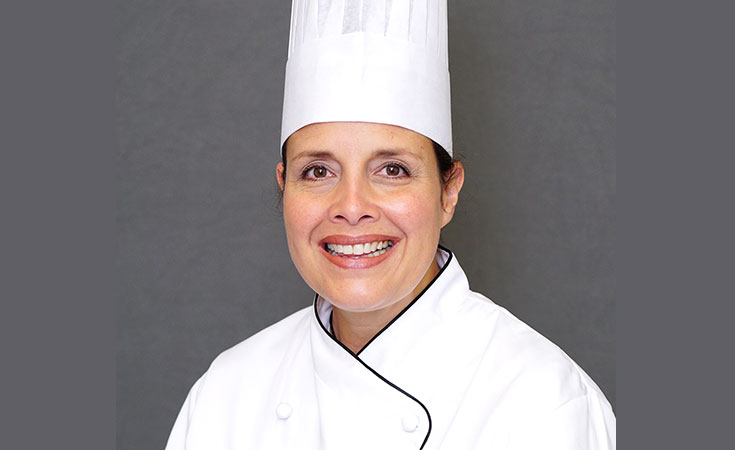 Chef Daina Soto-Sellers
Associate Professor, Johnson and Wales University
Daina Soto-Sellers is a science-driven chef with more than 20 years of experience in the food and beverage industry, both front- and back-of-house. Her experience includes catering, casual, fine dining and hotel environments in Puerto Rico, Saipan, St. Thomas USVI, Florida, Maryland, Mississippi and Boston. She has been a full-time culinary instructor at JWU Charlotte since 2015 and previously taught in Puerto Rico, from which she is native. Soto-Sellers has a master's degree in Culinary Innovation and Food Product Development from the Dublin Institute of Technology in Ireland. She has also trained in San Sebastian, Spain, with research and development chefs at the Basque Culinary Center.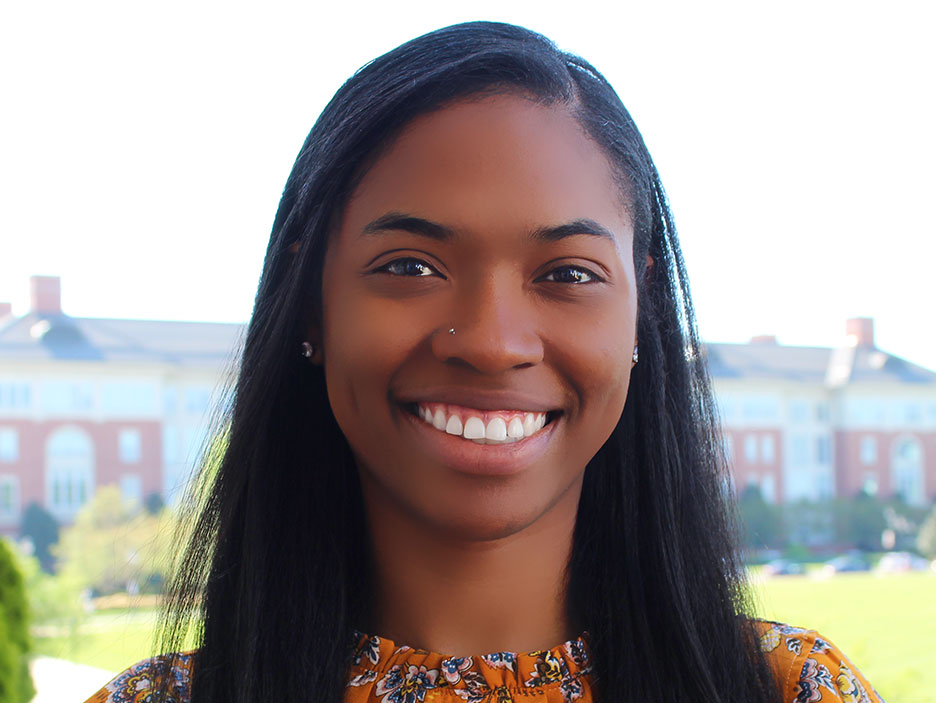 Cinya Brand, MPH, CHES
Research Assistant, UNC Nutrition Research Institute
Cinya Brand earned her Bachelor of Science in Molecular Biology from East Carolina University in 2019. After relocating to Charlotte, Cinya attended Gillings School of Global Public Health's online MPH program, where she obtained her Master of Public Health in Nutrition. Cinya joined the UNC Nutrition Research Institute in 2023 as a Social/Clinical Research Assistant in the Tate lab. The lab's research focuses on two main areas: strategies for improving both short and long-term body weight regulation to reduce disease risks and the development and translation of programs as alternatives to clinic-based care using digital and wearable technologies.
Butternut Squash Salad Rolls and Maple Orange Sauce
Ingredients:
4 cups salad, 8 rolls
| | |
| --- | --- |
| Butternut squash, peeled, seeded, 1/2-inch diced | 1 pound |
| Extra Virgin Olive oil | 1 tablespoon |
| Kale, trimmed from ribs and stems, rinsed throughly and dried | 3 cups |
| Red onion, peeled, 1/8-inch diced | 4 oz, 1/2 small onion |
| Dried cranberries | 1/2 cup |
| Pecans, chopped | 1/4 cup |
| Pumpkin seeds (pepitas), raoasted | 1/4 cup |
| Goat cheese, crumbled | 1/2 cup |
| Salt and pepper | to taste |
| For Dressing and Dipping Sauce |   |
| Fresh orange juice | 1/2 cup from 2 oranges |
| Maple syrup | 2 tablespoons |
| Rice vinegar | 2 tablespoons |
| Soy sauce | 2-3 tablespoons |
| Ginger, fresh, grated fine | 1 teaspoon |
| For assembly |   |
| 8″ round rice paper wrappers | 8 each |
Method:
Preheat oven to 450°F.
Place squash on a baking sheet, drizzle with oil, lightly season with salt and pepper, toss, and spread in a single layer. Roast 15 minutes, toss gently and return to oven and roast 10-15 more minutes or until tender and caramelized. Transfer to a bowl to let cool.
 In the same sheet pan, add the kale and cook for 5-10 minutes to lightly roast. Let cool and reserve.
While the squash is roasting, whisk together all dressing/sauce ingredients.
In a bowl toss the roasted squash, red onion, cranberries, pecans, pumpkin seeds and 1/8 to 1/4 cup of the dressing/sauce. Reserve the rest to use as a dipping sauce for the rolls.
Add the crumbled goat cheese right before assembly, gently tossing to maintain the shape.

To assemble the rolls:

 Set an assembly line with a shallow bowl (or large pie plate) with water, the rice paper wrappers, the kale, the salad, and a container lined with damp pieces of towel to prevent the assembled rolls from drying.
 Take one piece of rice paper at a time and submerge in the water for 5-10 seconds, until pliable. Assemble by placing about 1/4 cup of the kale on top of the rice paper, leaving about an inch and a half of empty wrapper on either side.

 

Then top the kale with a 1/2 cup of the salad.
To roll, fold left and right sides or wrapper snugly over the filling.

 

Lift the bottom of the wrapper over the filling, tucking it underneath, then roll up firmly but gently.

 

Place seam side down on the lined container. Repeat with the remaining wrappers and filling. Cut in half when ready to serve. Serve with the leftover maple orange sauce.

 
Nutrition Benefits
Butternut Squash:
One cup of butternut squash offers 10% of your recommended daily intake of folate (Vitamin B9) and over 50% of your recommended daily intake of Vitamin C. NRI Principal Investigators Natalia Krupenko, PhD, and Sergey A. Krupenko, PhD, study folate. Dr. Natalia Krupenko's research is focused on the role of folate in promoting health and preventing disease in humans, while Dr. Sergey Krupenko's research focuses on folate and its role in liver function and cancer disease.
Kale:
Dark leafy green vegetables are mostly water and therefore, when cooked, their nutrient content becomes more concentrated. Spinach and Swiss chard, along with other leafy greens, pack in a hefty amount of nutrients like fiber, vitamins A, C, and K, and magnesium. They also contain calcium, iron, and potassium. Lutein, a pigment and carotenoid antioxidant, is found in many leafy greens like spinach and Swiss chard and has been found to support brain and eye health. General recommendations are for at least 1.5 cups each week. NRI Principal Investigator Carol L. Cheatham, PhD, is studying the effects of lutein on the development and functioning of the hippocampus and frontal lobes, brain structures that are integral to the formation and retrieval of memories and to higher-order cognition.
Cranberries:
Cranberries get their red color from anthocyanins. (Anthocyanin pigments also contribute to the color of wild rice.) To date, there is not much research to support this antioxidant's relationship with any disease risk reduction. Cranberries also contain tannins which prevent bacteria growth and give cranberries their likely most notable attribute—prevention of urinary tract infections in women. 
Ingredients:
1.5 cups
| | |
| --- | --- |
| Thick cut bacon, 1/4-inch diced | 2 slices, ~2.5 oz |
| Mushrooms, rinsed and dried, trimmed 1/4-inch slices | 8 oz |
| Shiitake mushrooms, rinsed and dried, trimmed, 1/4-inch slices | 6 oz |
| Shallots, peeled, minced | 1 oz |
| Garlic clove, peeled, minced | 1 each |
| Madeira, Marsala or Cream Sherry | 2 tablespoons |
| White miso paste | 1 tablespoon |
| Coconut Aminos or Liquid Aminos | 1 tablespoon |
| Herbs de Provence, dry | 1 teaspoon |
| Pepper | a pinch |
| Water | 2 cups |
| Cornstarch (mixed with 1 tablespoon of water for slurry) | 1/2 tablespoon |
Method:
1. In a wide sauté pan (~14-inch), on medium-low heat, slowly render the bacon until golden brown and crispy. Remove just the bacon pieces and reserve in a towel lined container until plating (to be used as garnish).
2. Remove the excess fat from the pan leaving about 1 tablespoon behind for cooking. Add all the mushrooms to the pan and increase the heat to medium-high. Cook the mushrooms, stirring only sporadically, until they are golden brown, about 4-6 minutes.
3. Reduce the heat to medium-low and add the shallots and garlic. Cook for 2-3 minutes, stirring frequently to prevent browning.
4. Add the fortified wine to deglaze and cook for 1-2 minutes.
5. Add the miso, the coconut aminos, the dry herbs, pepper and the water and bring to a simmer.
6. Simmer until almost reduced by half, about 15 minutes. Add the cornstarch slurry as needed until desired viscosity. Keep warm until plating.
Ingredients:
4 cups
| | |
| --- | --- |
| Shallot, peeled, minced | 1/4 cup |
| Extra Virgin Olive oil | 1 teaspoon |
| Stone Ground White Grits | 1 cup |
| Chicken stock or broth, unsalted | 1 quart, +~1 cup for finishing** |
| Salt | 1/2 teaspoon |
| Cream cheese | 2 oz |
Method:
1. In a medium saucepan, on medium low heat, sweat the shallots in the olive oil until almost translucent.
2. Add 1 quart of the unsalted chicken stock and salt, then bring to a boil and slowly stir in the grits. Reduce the heat to simmer for 30-40 minutes, stirring occasionally.
3. Remove from heat, add cream cheese, and stir until melted and combined in the cooked grits. Keep warm until plating. **Use the extra stock as needed to adjust the creamy grits consistency before plating.
Ingredients:
3 cups
| | |
| --- | --- |
| Rainbow carrots and/or parsnips, peeled, 1.5-inch diagonal cut | 1 pound |
| Shallots, peeled, cut in half lengthwise | 2 each (4 halves) |
| Brussels sprouts, rinsed and dried, trimmed, sliced 1/8-inch lengthwise | 1/2 pound |
| Extra Virgin Olive oil | 3 tablespoons, divided |
| Salt and pepper | to taste |
Method:
1. Preheat oven to 400°.
2. In a mixing bowl, toss the carrots in 1.5 tablespoons of oil. Season with salt and pepper and spread evenly on a sheet pan, leaving room to put the shallots. Note if using purple carrots, group them in a corner to prevent bleeding into lighter color ones.
3. In the same mixing bowl add the Brussels sprouts slices and toss in 1 tablespoon of oil, making sure they are fully coated. Season with salt and pepper and spread in a single layer.
4. In the same mixing bowl add the shallot halves and toss in 1/2 tablespoon of oil. Note you might not need to add oil if there is enough remaining in the bowl. Reserve, these will go in the oven halfway in the cooking process of the carrots.
5. Put both carrots and Brussels sprouts sheet pans in the oven and cook for 18-25 minutes, tossing halfway in the cooking process (after 10 minutes). The Brussels sprouts chips can be flipped over, instead of tossed, to make sure they remain spread in a single layer.
6. When tossing the carrots after 10 minutes, add the shallots halves to the sheet pan, flat side down.
7. Bake all vegetables until golden brown.
Nutrition Benefits
Mushrooms:
Mushrooms contain high amounts of selenium, vitamin D, and vitamin B6. Selenium can help prevent cell damage in our bodies, vitamin D helps with cell growth, and vitamin B6 helps our bodies form red blood cells. All of these nutrients in mushrooms help to maintain a healthy immune system. Mushrooms act as a prebiotic to stimulate the growth of gut microbiota, conferring health benefits to the host. NRI Principal Investigator Katie Meyer, ScD, is the recipient of a Research Scientist Development Award from the National Heart, Lung, and Blood Institute to study the gut microbiota, nutrient metabolites, and cardiovascular disease in the Coronary Artery Risk Development in Young Adults (CARDIA) Study.
Stone Ground Grits:
Similar to the benefits of eating a wide variety of fruits and vegetables, it can be important to also vary your intake of grains. In addition to commonly consumed wheat and rice, there are a whole host of other grains (ancient and modern) that can provide an assortment of nutrients and mix up the typical fare. Quinoa (pronounced keen-wah) is gluten free and its nutrient content is similar to rice, but provides a bit more protein and fiber. Quinoa also provides important vitamins and minerals like folate, phosphorus, iron, zinc, and magnesium.
Roasted Carrots and Parsnips:
Carrots come in more colors than the typical orange. They can also be found in purple, red, white, and yellow varieties. Beta-carotene, an antioxidant, is one group of red, orange, and yellow pigments called carotenoids. Beta-carotene along with other carotenoids provide roughly 50% of the vitamin A needed in the American diet. Carrots are one of the best sources of beta-carotene. Two medium carrots, 1 cup of baby carrots, or 1 cup of strips or chopped carrots counts as 1 cup of vegetables from the vegetable group. Pairing carrots with fat like olive oil helps the body to absorb fat-soluble nutrients such as vitamin A.
Ingredients:
2 cups
| | |
| --- | --- |
| For batter |   |
| Sprouted Spelt Flour | 1 cup |
| Baking Powder | 1/2 teaspoon |
| Salt, kosher | 1/2 teaspoon |
| 'Apple Pie Spice' (cinnamon, nutmeg and allspice) | 1 teaspoon |
| Fresh egg, separated (yolk and whites) | 1 each |
| Milk 2% (or buttermilk) | 1/2 cup |
| Butternut squash, boiled, pureed | 3/4 cup |
| Coconut sugar (or cane sugar) | 3 tablespoons |
| Extra Virgin Olive oil | 1 fl. ounce |
| Vanilla extract | 1/4 teaspoon |
| To assemble cake for baking mix together  |   |
| Apples, peeled, cored 1/8-inch diced | 12 oz |
| Agave or maple syrup | 1/2 cup |
| Salt | pinch |
| For cream cheese frosting |   |
| Cream cheese, softened | 3 oz |
| Greek yogurt, plain | 3/4 cup |
| Maple syrup | 1 tablespoon |
| Vanilla bean, split lengthwise and scraped | 1 each |
| For garnish |   |
| Walnuts and pecans, chopped | 2 oz |
Method:
1. Preheat oven to 375°.
2. In a bowl, whisk together the spelt flour, baking powder, salt,'apple pie spice.'
3. Whip the egg whites to medium peaks, either by hand or in a stand mixer with a whisk attachment.
4. Fold wet into dry ingredients with a rubber spatula until just combined. Fold in 1/3 of the egg whites first to lighten the batter. When its incorporated, fold in the rest gently, do not overmix.
5. To assemble for baking: Place 8, 4-ounce oven safe ramekins in a sheet pan. To each ramekin add in this order: 2-3 tablespoons of diced apples, 1 tablespoon syrup, 1/4 cup batter.  Gently tap each filled ramekin on the work surface to release any air pockets in the batter. Bake for 25-30 minutes, until firm in the center and a toothpick comes out dry.
6. To serve: Cool for 10 minutes. Loosen the sides of the cake by running a small knife around the edge. Place a plate upside down on top of each ramekin, then invert the pan, flipping the cake onto the plate. Garnish each cake with a dollop of cream cheese frosting (~1 ounce) and chopped walnuts and pecans (~1/4 ounce).
Nutrition Benefits
Apples:
Apples are the most widely consumed fruit worldwide. They offer multiple health benefits. Apples may lower your chance of developing cancer, diabetes, and heart disease. Research has found that eating 100-150 g/d of whole apples is associated with a lower chance of heart disease and risk factors such as high blood pressure. Eating the skin of the apple is paramount as it contains half of the apple's fiber content. Apples health benefits are believed to come from polyphenols, an important group of antioxidants. Polyphenols have shown promise as chemosensitizers in triple-negative breast cancer (TNBC) treatment. NRI Principal Investigators, Susan Sumner and Blake Rushing used a metabolomics approach to identify cellular pathways through which polyphenols and PUFAs impact chemosensitivity. The results of their research could facilitate development of TNBC treatment options with fewer side effects.
Sprouted Spelt Flour:
Sprouted grains are low in saturated fat, high in dietary fiber and contain zero cholesterol. They increase key nutrients like B vitamins, vitamin C and essential amino acids often lacking, like lysine and thiamin. Sprouting makes grains easier to digest and reduces blood sugar and insulin responses in the body. It also lowers cholesterol and blood pressure and protects against fatty liver. NRI Principal Investigator Saroja Voruganti, is studying how genetic variation (polymorphisms) can affect PUFA (polyunsaturated fatty acids) metabolism and cause different outcomes with respect to cardiovascular disease risk, type 2 diabetes, and fatty liver.